Chiropractic Care During Pregnancy
We invest ourselves in the wellness of women who are pregnant or trying to conceive by providing specialized care for mothers to be. Both the added weight of the baby as well as hormonal changes contribute to most mothers experiencing some amount of pain during pregnancy. Chiropractic care is safe for expecting mothers and can relieve intense pressure and or pain they are feeling.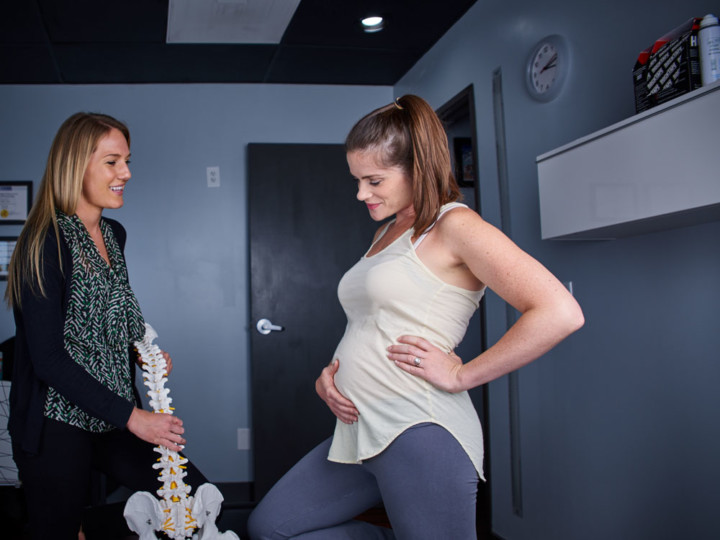 Why seek chiropractic care during pregnancy?
Relieves and prevents common discomforts during pregnancy
Shorter labor times
As your center of gravity moves forward, it increases the lumbar curve and creates extra strain on the lumbar joints.
The hormone relaxin causes more ligament laxity in the body and chiropractic helps keep the pelvis aligned
Optimal fetal positioning
Non-invasive, drug-free treatment specialized for your body
The Webster Technique For You And Your Baby
There are no known contraindications to chiropractic care throughout pregnancy.
Our chiropractors are certified in the Webster Technique and can work with all expecting mothers at every stage of the pregnancy. Learn more about the Webster Technique here.
The benefits of gentle chiropractic adjustments utilized in the Webster Technique include a safer, easier birth for both the mother and the baby. Aligning and strengthening the mother's pelvis can reduce back pain that many mothers experience during pregnancy while also facilitating neuro-biomechanical function in the pelvis.
You and your baby's well-being is our main priority.
Due to the effects of relaxin hormone (i.e., ligamentous laxity) during pregnancy and its possible contribution to sacral instability, the Webster Technique should be provided throughout a woman's pregnancy.
Sacral misalignments may contribute to difficult labor for the mother (i.e., dystocia), caused by inadequate uterine function, pelvic contraction, and baby mal-presentation. Alignment of the pelvis may have a positive effect on all of these causes of dystocia.
We provide pregnancy chiropractic care using tables that adjust for a pregnant woman's body as well as pillows for comfort, and we use techniques that avoid unneeded pressure on the abdomen. We will also provide you with prenatal exercises and stretches to do at home that is specific to your body and safe for all stages of pregnancy.
What to expect during a prenatal care visit:
You will get to lay face down on our drop tables with specially designed pregnancy pillows while the doctor assesses your pelvis and spine.
Soft tissue work will be provided for the psoas, IT band, piriformis, and round ligament.
Any other specific concerns will also be addressed (i.e. carpal tunnel, rib pain, headaches, neck pain, hip pain, knee pain)
Prenatal Exercises will be given to ease discomfort and prepare you for a safer easier birth.
We work with many local OB/GYNs as well as the local Midwives and Birth Centers. We can communicate easily with your provider to keep you safe and keep everyone informed.
Get the proper treatment and education regarding your Prenatal Chiropractic Care
We provide treatment alongside education about your condition to help manage your current injury and to prevent future injuries.
Give us a call at (720) 458-0487 or message us here with any further questions about our Chiropractic Care for Pregnancy.
Our Chiropractic Services
I started seeing Dr. Roxy in my third trimester of pregnancy because I wanted a Webster certified chiropractor to help with the aches and pains of pregnancy.
Oh let me count the ways :). But seriously, the office is clean and spacious even with a little kids play area (hello mama's). It's easy to set up appointments, and they are so sincere.
If a family member called me looking for a Chiropractor, without a doubt I would tell them to call Comprehensive Chiropractic! Very knowledgeable and super friendly office!
Dr. Bradley Knox is an excellent health care professional. Extremely knowledgeable and friendly as well. I'm a competitive athlete and I've only been working with him for the last week!!
Are you ready to meet with one of our doctors? Fill out the form below to request an appointment. We'd love to hear from you